Elevate Your Drupal Site's Security: Codario's Comprehensive Dependency Management and Vulnerability Shield
Codario safeguards your websites against risks and maintains the safety of your Drupal modules, whether you're working on a single project or thousands. We fully automate your security tasks, making it effortless to keep your websites protected and compliant.
*14 days free trail, no credit card required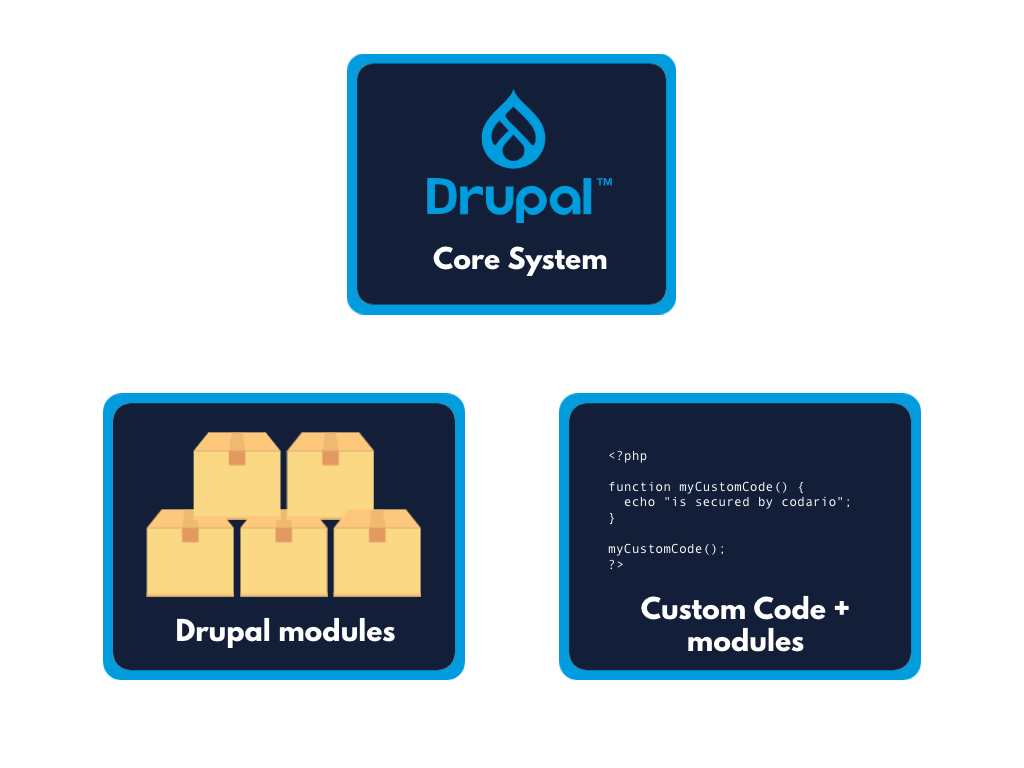 Codario monitors and updates for you
* 03/2023 – from drupal.org, github.com
How to secure your Drupal Project?
To use Codario with your Drupal Project, you can either install our Drupal Module or connect your Git repository with Codario. 
Codario has a powerful scanning engine that checks your Drupal Core System, all your installed modules, and your custom code for vulnerabilities. 
We update your Project up to 100% automated and integrate our capabilities seamlessly into your DevSecOps routine.
As the lead developer for a digital inhouse agency that manages over 70 Drupal projects, I can't express how grateful I am for Codario. Before using Codario, our team spent a significant amount of time manually managing dependencies and monitoring vulnerabilities across our entire project portfolio. The constant updates, patches, and changes in dependencies took a toll on our efficiency and often resulted in sleepless nights.
Codario has completely changed our workflow for the better. This tool has streamlined our dependency and vulnerability management process, freeing up time for our team to focus on delivering high-quality projects for our clients. The automation capabilities are incredibly impressive, and the user-friendly interface makes it easy for even the less tech-savvy members of our team to utilize the platform.
Not only does Codario automate dependency updates, but it also scans for security vulnerabilities and alerts us in real-time. This proactive approach has been invaluable in maintaining our clients' trust and the overall security of our projects.
The Codario team has also been fantastic to work with. Their customer support is responsive and helpful, always ready to address any questions or concerns we have. The regular updates and improvements to the platform demonstrate their dedication to making Codario an indispensable tool for Drupal developers.
In summary, Codario has been a game-changer for us. The time savings, improved security, and peace of mind it provides have made it an invaluable addition to our toolset. I highly recommend Codario to any team managing multiple Drupal projects – you won't regret it!
Felix
Head of Development, @h_da
Trusted by Drupal experts like